As I promised over the past couple of weeks, I made a turkey pot pie! It's not quite gone and I miss it already. Per my standard, I didn't think to take photos until just before baking…
My friend and neighbor Susan made the pie crusts after watching a great YouTube video from Food 52 to step up her pastry game. Susan said they swore by par-baking the bottom crust, so she brought them over having baked the bottom crusts for 20 minutes. You can check the video for a recipe, because I don't have that info to share, but I can tell you, the pastry was spectacular, and the par bake decision was spot on, as I imagine the bottom of the pie would have been mushy without it.
The recipes I referred to and adapted were from The Pioneer Woman: https://www.thepioneerwoman.com/food-cooking/recipes/a10833/leftover-turkey-pot-pie-recipe/ and All Recipes: https://www.allrecipes.com/recipe/215447/dads-leftover-turkey-pot-pie/
Ingredients for two deep-dish, double-crust pies
4 pie crusts, bottom crust par baked for 20 minutes (you'll have to refer to the video for instructions, but I'd think 425F would be good).
Filling
– 4.5 c cooked, cubed turkey (light and dark meat)
– 2 c. frozen green beans, cut into half inch pieces (these were in my freezer from the summer and I used these because I didn't have peas)
– 1.5 c. diced carrots
– 1.5 c. diced potatoes
– 1.5 c. diced celery
– 3/4 c. butter
– 3/4 c. diced onion
– 2/3 c. flour
– 1.5 t. salt, or more to taste
– 1.5 t. pepper, or more to taste
– 1/2 t. celery seed
– 1 T. dried thyme
– 1.5 t. crushed red pepper (optional)
– 1/4 t. crushed bay leaf (1/4 to 1/2 leaf
– 1 t. paprika (for color)
– 1.75 c. turkey broth (plus more to thin as needed)
– 1.5 c. heavy cream (I had it and it needed to be used, but I ended up increasing the broth because the cream made it a bit thicker.)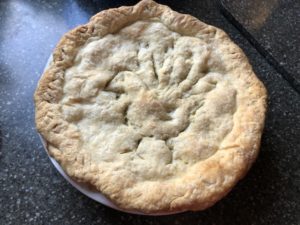 Preparation
1. Preheat oven to 425.
2. Heat butter in a large skillet or pot that can hold the whole shebang.
3. Add the onion, carrots and potatoes and saute for 10-12 minutes.
4. Add the celery and cook another 5 minutes.
5. Mix the flour into the veggies, then slowly add the broth, stirring constantly.
6. Add the turkey, green beans and remaining herbs and spices. Mix well.
7. Stir in the cream and cook a few minutes to thicken. You want a pretty thick filling because you want it to hold together into a slice after it bakes. If it seems too thin, cook a bit longer. If it seems too dry, stir in more broth, or a splash of white wine, a little at a time.
8. Taste and adjust seasonings as needed.
9. Split mixture into the two par-baked crusts. My quantities were perfect for the two deep dish pie pans we used, but you don't want to overfill the pies.
10. Roll out the top crusts to be at least an inch bigger than the pie dishes, and place over the pies. Cut the top crust, leaving about an inch over so you can press over and onto the bottom crust, being careful not to break it.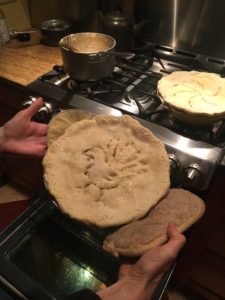 11. If you are fresh out of children on hand, cut childlike-images into the top crust for steam vents.
12. Bake in preheated oven for 35-45 minutes, until golden brown. If the edges are getting too brown, cover with foil.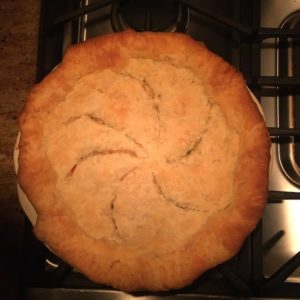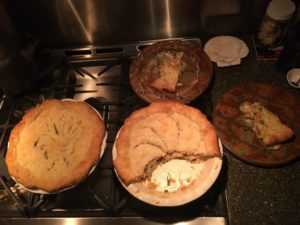 Allow to cool 10 minutes before cutting. Slice and serve.