Grilled Eggplant and Squash Muffaletta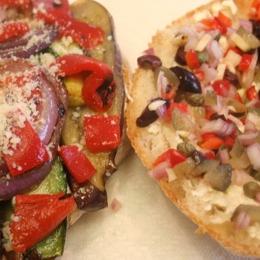 This is the perfect summer dish, and should be as celebrated as the BLT, but alas, most people have never made it at home. It's so worth it, and you'll be fantasizing about it forever after.
Preparation
2 Asian or one globe eggplant
2 small zucchini or yellow squash
2 T extra virgin olive oil
1/2 red onion
salt and freshly ground black pepper
Muffuletta Mix:
1/2 red onion, or 2 scallions, the white and a bit of the green parts, minced
2 cloves garlic, smashed and minced
1 T capers, well drained
1 T chopped cornichons, dill or other pickles chopped
1 T chopped serrano or Fresno pepper
6 T each chopped pitted, brine cured
black and green olives (such as
Kalamatas and Picholine)
2 T extra virgen olive oil
1/2 t freshly ground black pepper
2 muffaletta rolls
3 tablespoon mayonnaise mixed with a clove of minced garlic
1 red roasted bell pepper, peeled and sliced (we didn't have the pepper, but it was still divine without it)
6 T grated parmesan or cave-aged Marcoot grating cheese
Trim the ends off the eggplant and squash and cut on the diagonal into slices about 1/2 inch thick. Spread on baking pans and drizzle the olive oil on both sides and sprinkle with salt and pepper. Set aside for 30 minutes. Slice the onion into thick rounds and brush carefully with olive oil so they don't break up.
Grill eggplant, zucchini, and onion on a grill over medium to low heat–this can be done with the dying embers of a grill. Or roast the veggies in a 450 degree oven, turning once, until cooked through, about 40 minutes.
Make the muffuletta mix by mixing all the ingredients together. The mix can be made as much as a week in advance, but bring to room temperature before using.
To make the sandwiches, split the rolls and toast the cut sides. Spread with the garlic mayo. Layer bottoms with the eggplant, zucchini, and onion slices, and diced bell pepper. Sprinkle parmesan on top, then top with a generous spoonful of the muffuletta mix. Close up the sandwiches, slice in half and serve.