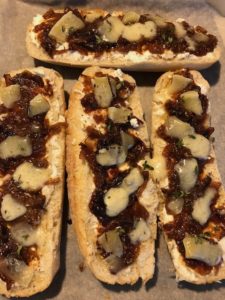 An overabundance of figs can lead to fantastic discoveries. This gem of a combo is worth making on a small scale, too. Caramelized onions and figs complement one another wonderfully, and when you invite creamy chevre and blue cheese to the dish, you're guaranteed a party. Whether you spread it on a pizza, a cracker, crusty bread or soft bread, served hot or cold, everyone will want to be at that party! Thanks to covid, you'll have plenty of time to perfect your recipe before you have to share it at a party…
Start with at least two boxes of fresh figs and half a small to medium onion per box. A variety of onions will add depth and complexity, but use whatever is available. Low, slow roasting will caramelize the onions, but even if you're impatient or in a hurry and cook them too fast, maybe even crisping up the onions (mmmm), it will turn out divine.
Ingredients
2-4 boxes fresh figs, rinsed, stems removed and quartered
1 large or 2 medium onions, peeled and sliced in thin half rings
olive oil
salt and pepper to taste
Preheat the oven to 375. Use a baking dish that will accommodate the onions and figs in a low or single layer. Drizzle with olive oil and toss to coat. Wait until later to add salt and pepper. Roast, stirring every 15 to 20 minutes until onions are golden brown and caramelized. The whole pan will be the same color and should be thick and gooey. Light salt and pepper to taste. Let cool and refrigerate if you aren't going to use them right away. 
Serving suggestions:
– Serve on crusty bread with a schmear of mascarpone or fresh chevre cheese.
– Spread on a flatbread crust and top with grated Vermillion Blue Cheese and cooked bacon crumbles.
– Add to ham and cheese sandwich (either grilled or on a pretzel bun!).