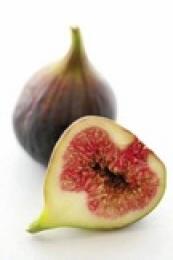 I rarely do more than just eat Ivan's fresh figs right out of hand–though I do love them with a little blue cheese. If I were to try them in an actual recipe, something like this tapenade would probably make me really happy.
Preparation
1/2 cup or so of fresh figs, stemmed and cut in quarters)
1 cup of pitted olives, use nicoise or kalamata for the best balance of flavor
Juice of 1/2 of a lemon
1-2 t. stone-ground mustard (this is to taste, start off with less)
1 clove garlic
A few capers, well rinsed (about 1/2 a tablespoon)
Finely chopped fresh rosemary to taste (teaspoon should do it)
1/4 to 1/3 c. Olive oil
 
Throw all the above in a food processor and hit the pulse button serveral times to chop up the figs, olives, etc. Now drizzle in a little good olive oil and pulse a few more times until the desired consistancy is achieved. Add salt and black pepper to taste.
 
Make this the day before so the flavors can marry overnight in the fridge.
 
*Now the fun. This is amazing on: crostini, poached or grilled fish, chicken, pork, lamb, on top of poached eggs and yes, just by the spoonful when no one is looking. Oh, and for a fancy appetizer – goat cheese on a crostini, fig/olive spread and top with a toasted walnut (or Missouri pecan).