Apple-Chestnut Mini Muffins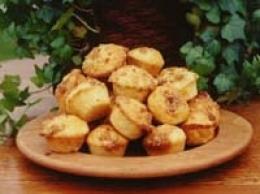 Chestnuts and apples mean fall is here, and these muffins are the perfect meeting of two of my favorite fall foods. Make them mini so you don't have to feel guilty about eating three or four of them.
Preparation
1 egg
1/2 C milk
1/4 C oil
1 C chestnuts (roasted, peeled and chopped fine. See the recipe for roasted chestnuts)
1 med. apple
1 1/2 C wheat flour
1/2 C sugar
1 tsp baking powder
1/2 tsp salt

Topping:
1/3 C chestnuts (chopped fine)
1/2 C brown sugar

Heat oven to 400 deg. F. Spray 3 mini-muffin tins with Pam. Beat egg, stir in milk,
oil, chopped chestnuts, chopped apple. Beat in remaining ingredients. Make nutty
topping by thoroughly mixing chopped chestnuts and brown sugar. Set aside. Fill
muffin cups about 3/4 full. Sprinkle about 1/2 tsp of topping on each. Bake 20-25
minutes until a toothpick comes out clean. Immediately remove from pans.