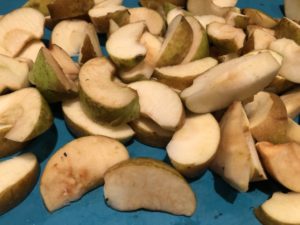 Lindy said her husband Kevin made some really delicious baked apples and she was bringing more apples home so they could do it again. Okay, I'll bite…
Since it's getting cold, my brain was thinking hot apple cider with star anise and cinnamon, so when Lindy said that the secret ingredient was Chinese Five Spice, I was thrilled to have a jar on the shelf.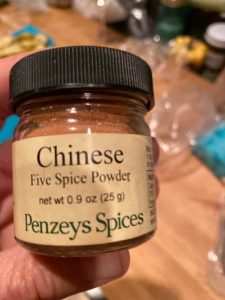 If you're not familiar with this unique spice blend, it's cinnamon, cloves, fennel (or anise seed in my Penzey's version), star anise, and Szechuan peppercorns–sweet, savory and a little bit spicy. It paired beautifully with the apples, a sprinkle of brown sugar and a healthy handful of pecan halves.
It was so good that I fantasized about putting it into a pie crust.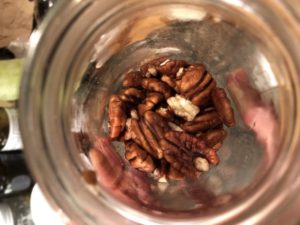 Unfortunately, we finished it before I got around to making a pie crust. Fortunately, there are plenty more apples to come!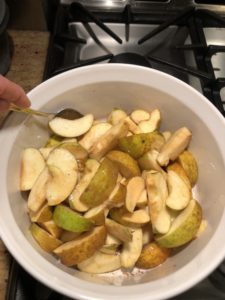 Ingredients
2 lb. apples (a variety of sweeter, tarter, softer and firmer could add a bit excitement, if you're into that), cored and sliced.
1T. lemon juice
1/2c. pecan halves or pieces
1-2 t. Chinese Five Spice, more or less, to taste
2-3 T. Light or dark brown sugar (optional)
3-4 tablespoons butter, cold, cut into chunks.
Preparation
Pre-heat oven to 400F. Combine apples, lemon juice and and sugar. Sprinkle with Chinese Five spice (I didn't measure, I just sprinkled from the jar). Mix well, pour into baking casserole and dot with butter.
Bake 30 minutes or until browning and bubbly. Serve hot with a splash of heavy cream or ice cream. Leftovers would be great in or on pancakes or oatmeal.