Cucumber, Tomato, Peach and Corn Salad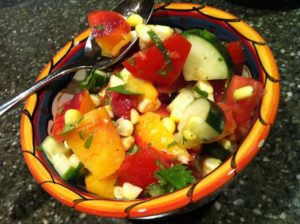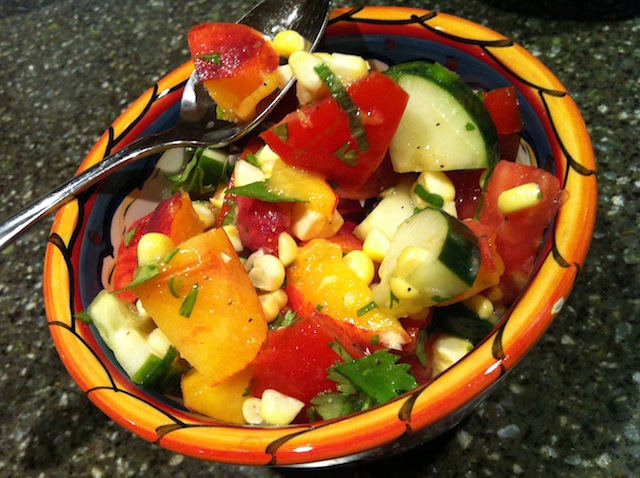 The name of the recipe sort of says it all. You can use equal proportions, or more or less of any depending on your tastes, or what you have available. This salad is so fresh it deserves a slap on the face. It also makes a delicious salsa with the addition of hot peppers, and we have jalapenos!
Preparation
-Fresh tomato, cut into cubes
-Peach, cut in cubes
-Cucumber, cut in cubes
-Raw sweet corn, freshly shucked off the cob. Do this with a sharp knife over a big bowl: just run the knife along the length of the cob at base of the kernals. It can be messy, so a large bowl catches the flying kernals.
Mix all ingredients together. It doesn't really need a dressing, but a light sprinkle of salt and pepper and a little fresh basil, mint or cilantro will brighten it up nicely. If you want a little more zing, sprinkle with lemon juice, vinegar or your choice (balsamic, rice, wine or cider are all delicious), or a dollop of plain yogurt. If you like, add some peppers–sweet, hot or both. I love this time of year.