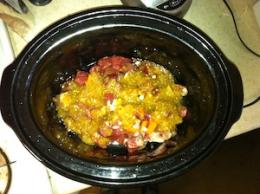 This can be a 10 minute morning prep, as simple as chopping a couple potatoes, carrots, mushrooms, onions and garlic, and opening a jar. Comfort food at it's best.
Preparation
Ingredients
1 lb. beef stew meat
2 or 3 potatoes, cubed
2 or 3 carrots and/or parsnips, sliced
.5lb. shiitake mushrooms, de-stemmed, rinsed and sliced
1 onion, coarsely chopped
2-4 cloves garlic, chopped (or whole for my kind of treat)
1 jar Ozark Forest Green Tomato Relish (or any salsa or jar of tomatoes)
salt and pepper to taste
Optional additions include rutabaga, sweet potatoes, celeriac (whatever is still lingering in your refrigerator drawer), and any other seasonal root veggies you have. The more the merrier. 1/2 c. red wine or dark beer, or 1/4 c. vinegar will give more richness of flavor. If using a jarred preparation that used vinegar already, beware of making it too acidic.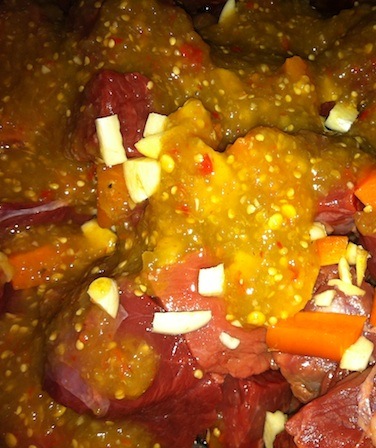 Preparation
Prep your veggies and layer them in the bottom of the crock pot. Top with the meat and then the jar of tomato relish, salsa or tomatoes and any other cooking liquid you desire. The meat will create a bit of liquid, so this will not look like stew when you layer it all in there. Salt and pepper. Cover and turn on the crock pot to low to cook for the day. When you get home, your stew will be ready.
If you have any greens like chard, spinach, bok choi or kale, save them to throw in for the last 5-10 minutes, or even chop them fine and place in the bowl raw to ladle your stew over so they just wilt under the hot stew. Serve with crusty bread or over rice or egg noodles.