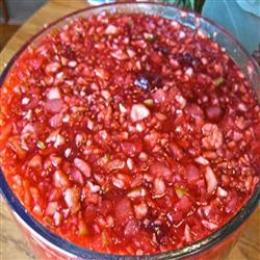 This sweet, tart, crunchy and nutty cranberry Jello salad may well become a standard on your Thanksgiving table. It's so easy and so good as leftovers.
Preparation
Ingredients:
2 c. (1 bag) fresh or frozen cranberries
1/2 c. sugar
1 c. water
1 large (6 oz.) box cherry Jello
1-1/2 c. celery, diced
1-1/2 c. Missouri pecans, chopped
Preparation:
Boil cranberries, sugar and water in a pot for about 15 minutes, stirring often until cranberries all pop open. Prepare Jello according to package. Stir in cranberries, celery and pecans. Refrigerate. Stir after 1 hour and let set 24 hours.