Cheesy Cornbread Casserole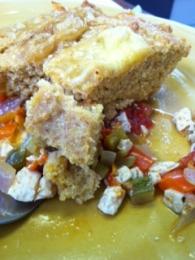 This was a quick lunch we made up with whatever was needing to be cooked in the veggie bin. Jamie whipped up a cornbread recipe, and I prepared the zucchini, peppers and onions. We added in a package of tofu, a small tub of Lindy's tomato soup, and several scraps of cheese (four varieties!) that were in the fridge. Voila, a delicious, nutritious lunch!
Preparation
For the cornbread topping
2 c. cornmeal
2 c. whole wheat flour
2 c. plain Greek yogurt (we didn't have the buttermilk the recipe called for)
4 eggs
1.5 t. baking powder
1/2 t. baking soda
2 T. olive oil
2 T. honey
salt
In a large mixing bowl, mix dry ingredients to blend. In a separate bowl, blend eggs, yogurt and oil and honey. Add over dry ingredients (Jamie added a scant 1/4c. of water to clean out the very thick liquid bowl and threw that in as well. Stir to mix well.
For the veggie bottom
3 or 4 medium zucchini, zephyr or other summer squash, cut in small cubes
2 or 3 sweet bell peppers, green and red or whatever colors you have, chopped
1 or 2 hot peppers, to taste, minced
2 medium onions, diced
1 package tofu, diced
2-3 fresh tomatoes, chopped (or leftover tomato soup, like we used!)
2 cloves garlic, minced
1-2 T. olive oil
1-2 c. finely sliced or shredded cheeses, a variety adds depth of flavor (we used some soft and some hard, and smoked gouda to melt over the top just before it was done).

Preparation
Preheat oven to 350F. Heat the olive oil in a skillet over medium heat and add the onion when hot. Saute for a minute and add the peppers, allowing them to cook slowly and caramelize a bit. Turn off the heat and add the garlic, stirring to mix. 
Turn the onion and pepper mixture into a baking dish and add the squash and tofu evenly over the top. Salt and pepper and cover with tomatoes. Add a variety of cheese over the top and spread cornmeal mixture on top in an even layer. Bake 15 minutes, add a little cheese over the top, and return to oven for about 10 more minutes, until cheese is melty and golden, and toothpick comes out clean.