Cheesy Chicken Chorizo, Spinach and Mushroom Stuffed Spaghetti Squash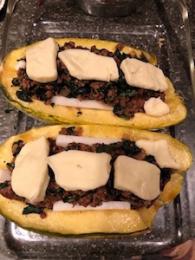 Member Joanne McAndrews offered another stellar-looking recipe that I adjusted to a Fair-Shares-ingredients version. The original version called for artichoke hearts, and no meat. Check out the original from the Eating Well site and see my adaptations (in red).
Preparation
The photo on the Eating Well site is much nicer than mine because, of course, I forgot to photograph it after baking (I'm that kind of food blogger).
I added my changes and additions in italics.
1 (2½ to 3 pound) spaghetti squash, cut in half lengthwise and seeds removed
3 tablespoons water, divided
1 package bulk chicken chorizo
1 onion, chopped
3 cloves garlic, minced
1 (5 ounce) package baby spinach (I used an half pound share from Babb's)
1 (10 ounce) package frozen artichoke hearts, thawed and chopped (I used an 8oz. share of shiitake mushrooms)
4 ounces reduced-fat cream cheese, cubed and softened (I used 2T. mascarpone, but will use chevre in the future)
½ cup grated Parmesan cheese, divided (I used chunks of cheese, both Goat Gouda and fresh Mozzarella, and didn't measure)
Kraft Grated Parmesan Shredded Parmesan Cheese 7 Oz
¼ teaspoon salt (I used more like a teaspoon of salt and pepper)
¼ teaspoon ground pepper
Crushed red pepper & chopped fresh basil for garnish (I wish I had fresh basil)
1. Place squash cut-side down in a microwave-safe dish; add 2 tablespoons water. Microwave, uncovered, on High until tender, 10 to 15 minutes. (Alternatively, place squash halves cut-side down on a rimmed baking sheet. Bake at 400°F until tender, 40 to 50 minutes.)
2. Meanwhile, combine spinach and the remaining 1 tablespoon water in a large skillet over medium heat. Cook, stirring occasionally, until wilted, 3 to 5 minutes. Drain and transfer to a large bowl.
>> I cooked the chorizo in a cast-iron skillet (if you use pork, you may want to skim the fat before adding more to your skillet) with onion. When mostly cooked, I added mushrooms and garlic and cooked until starting to brown. Added spinach and mascarpone cheese.
Position rack in upper third of oven; preheat broiler. Use a fork to scrape the squash from the shells into the bowl. Place the shells on a baking sheet. Stir artichoke hearts, cream cheese, ¼ cup Parmesan, salt and pepper into the squash mixture. Divide it between the squash shells and top with the remaining ¼ cup Parmesan. Broil until the cheese is golden brown, about 3 minutes. Sprinkle with crushed red pepper and basil, if desired.
I used a fork to loosen the squash, but didn't remove it from the shell. Added chunks of gouda to the squash halves before filling with the stuffing. Topped with mozzarella and broiled.