Beef and Sweet Potatoes Stewed in Coconut Milk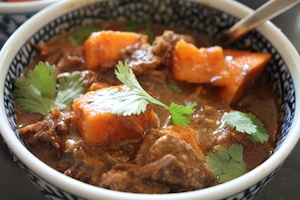 It's the perfect time of year for this sort of rich, spicy dish. The aromas are positively intoxicating. I'm sure those of you smarty pants with an instant pot will adjust the recipe accordingly and have dinner ready before the rest of us. Enjoy!
Preparation
Ingredients 
3 T. vegetable oil
3 bay leaves
2-inch stick cinnamon
6 cardamom pods
15 black peppercorns
8 whole cloves
3 oz. onion (~1/3c.), chopped
1 lb. stew meat chunks
2 lb. sweet potatoes, peeled, cut in 1" chunks
3 oz. onion (~1/3c.), chopped
1/4 t. ground turmeric
1 T. ground coriander
1/8 to 1/2 t. cayenne pepper
1 or 2 fresh, hot green chiles
1 1/4 t. salt
1 (14 oz.) can coconut milk
Heat the oil over medium high heat and add the bay leaves, cinnamon, cardamom, cloves and peppercorns. Stir once and add the onion. Sauté for a minute or two and add the meat, potatoes, turmeric, coriander, cayenne, green chilies, salt, one cup of the well-stirred coconut milk, and about 3/4 cup water because we aren't using a pressure cooker. Turn heat on high, bring to boil, cover and reduce to simmer for one hour. Remove lid, cook uncovered for 5 or 6 minutes, stirring gently. Add remaining coconut milk and heat through.
Serve over long grain rice. Beware the cardamom pods, cloves and peppercorns, which are well disguised. You'll know when you find one… Indian surprise! Delicious as leftovers, as the flavors blend together wonderfully.
This would make a fabulous creamy vegetarian soup, served hot or cold, if you just leave out the meat and run it through a food mill, removing the spices first.