Winner Winner Chicken Dinner
This chicken dish is so good and easy. I'm making it for Christmas dinner. You can add grated Parmesan to the panko if you want. Or sesame seeds, or some finely chopped pecans. It goes together very quickly and the chicken stays moist without brining or pounding.
Quick wilted spinach on the stovetop, baked chicken in the oven, and roasted potatoes in my airfryer.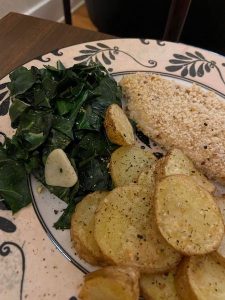 CHICKEN Heat oven to 400. Remove the skin and split chicken breast down the middle. Line a sheet pan with parchment paper. Spread flour in one shallow bowl, crack one egg and scramble in a second shallow bowl and add seasoning of choice ( I used old bay) and add panko bread crumbs to the third bowl. Sprinkle chicken with salt and pepper. Coat chicken in flour, then egg, shaking off excess, then panko. Flip chicken in each bowl to coat both sides. Place on sheet pan. Repeat with other half. Place in oven for 15-20 minutes, flipping halfway. Check with meat thermometer and cook to inner temp of 165.
POTATOES
Slice or chop whatever potatoes you have this week and toss with olive oil in a bowl. Sprinkle with salt and pepper. Heat airfryer to 400 and cook for 10 minutes, shaking halfway.
No airfryer? Add them with the chicken on a separate sheet pan. They just won't brown as well.
SPINACH
Wash and chop spinach. Slice a big garlic clove. Heat olive oil in a large skillet. Add garlic and spinach in handfuls, sauté till wilted. Continue till all spinach is cooked.
Time to eat!
The only item I used that wasn't from Fair Shares was the panko!