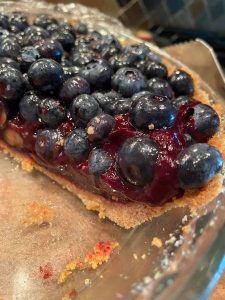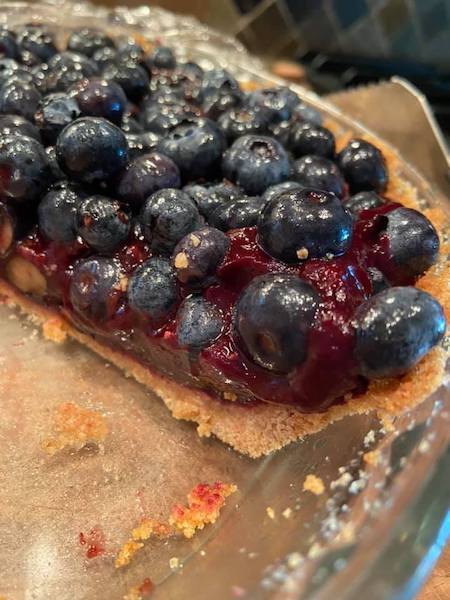 This recipe calls for blueberries, blackberries, and raspberries. I just had blueberries and blackberries. I love blackberries, but don't like the seeds. I wanted to try this pie because you purée some of the berries and strain off the solids for the filling. I used all the blackberries for the filling and added all the blueberries fresh. It was delicious! 
The pieces didn't hold together perfectly, but I topped it with whipped cream so who cares, right? It's still pie. 
First make a graham cracker crust
INGREDIENTS
8 whole graham crackers, broken up.
5 tbsp butter, melted and cooled slightly
3 tbsp sugar
METHOD
Heat oven to 325 degrees.
Process graham crackers in food processor to fine, even crumbs, about 30-45 seconds. Add butter and sugar. Process to combined. Press firmly into a pie plate. Bake for 13-18 minutes. Let cool.
Pie filling
INGREDIENTS
Fair Shares
6 cups fresh berries, any combination
Other Ingredients
1/2 cup sugar (editors note:  Hilty sells 10lb. bags of organic sugar – order ahead, they deliver only every other week)
3 tbsp corn starch
Pinch of salt
1 Tbsp juice from 1 lemon
2 tbsp fruit jelly
METHOD
Purée 2 1/2 cups of the berries till very smooth. Strain the purée into a saucepan through a fine mesh strainer, pressing into the solids to extract as much of the purée as possible. This took me about 5 minutes.
In a small bowl, mix the sugar, corn starch, and salt. Mix this into the purée a bit at a time while stirring. Heat purée mixture to a boil while stirring constantly until it thickens to a pudding constancy. Let cool slightly and pour into cooled crust.
Warm the fruit jelly in the microwave for 20 seconds. Then fold it into the last of the berries. Pour this over the fruit purée in the pie pan and press the berries into the purée. Cover with plastic wrap and cool in the fridge for at least 3 hours. Top with whipped cream.