Roasted Butternut Squash Harvest Dish/Dip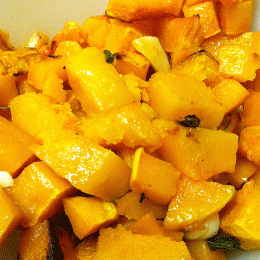 This is a nice harvest and holiday season side dish or dip. Apples and winter squash are always a festive combination. Serve as a dip with Raw Veggie Chips.
Preparation
Ingredients:
1 lb butternut squash, peeled, seeded and cubed
1 tsp olive oil
1 tsp cinnamon*
1/4 tsp clove*
1/4 tsp allspice*
(*or 1 1/2 tsp. pumpkin pie spice)
1/4 cup red wine vinegar (we used balsamic)
1/4 cup maple syrup, date syrup, honey or sorghum
3 apples, cored and cut into 1/2-inch cubes
1/4 cup chopped pecans
Preparation:
Heat oven to 400°F. Mix squash with oil in a bowl. Add spice mix; toss. Spread squash on an ungreased baking sheet; bake 15 minutes or until squash turns golden brown at the edges (I usually find this takes longer than 15 minutes).
In a bowl, mix vinegar and syrup; pour over apples. Bake 5 minutes. Combine apples, pecans and squash in a bowl. Let cool. Serve as is as a side dish or puree in a food processor or with a stick blender and serve as a dip, with sliced baguettes or raw vegetable chips like we do.