Pecan-Encrusted Salmon Over Mustard Sauce
I was hankering for salmon, and my friend Frazer's famous salmon popped in my mind. I've tried making up my own version in the past and never really succeeded—until now. I mean, this isn't the real deal by any means, but it was an absolutely delicious piece of fish that was relatively simple to make with relatively common ingredients that you're likely to have on hand, or have a good substitute readily available. I found this recipe and cut it in half, subbed/omitted what I didn't have on hand, and it was still good enough to include my version here for you now!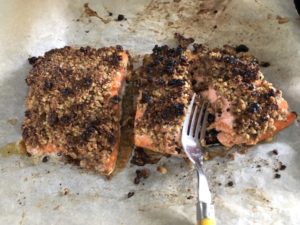 Ingredients
  • 2 6-oz salmon filets
TOPPING
• 1/2 cup finely chopped pecans
• 1 tablespoons dried Italian herb (I used a good sprinkle of each of a hot pepper citron spice and a pizza topping blend)
• 1/2 teaspoon salt
• juice of 1/2 a lemon
• 1-1/2 tablespoon melted butter (I added the butter to the bowl with the rest of the ingredients and nuked it for 40 seconds)
MUSTARD SAUCE
• 3 tablespoons mustard
• 3 tablespoons sour cream (you may use Greek Yogurt, but you will have a different consistency)
• 1/2 teaspoon mustard seeds (original recipe called for dried mustard)
• 1 teaspoon salt
Instructions
• Preheat the oven to 425º
• Mix all the topping ingredients together. I put the pecan pieces in a bowl and used a pastry cutter to chop them smaller and to combine the ingredients.
• Place the salmon skin-side down on parchment paper on a cookie sheet. Press half the pecan mixture over the entire top of each piece of salmon. 
• Put the salmon in the oven, and after five minutes, turn the temperature down to 350º.  Bake for 30-40 minutes depending on the thickness of the fish (a good rule of thumb when baking fish is 15 minutes per 1/2 inch at the thickest part).
• To make the mustard sauce, mix together the sour cream, mustard, salt, and mustard seeds.  Set aside until the salmon is done.
• To serve, put a generous dollop of mustard sauce on your plate and place the salmon on top.
This would be nice with a green salad, but we just gobbled it up as is.