Member Joanne McAndrews shares a crustless quiche recipe that is adaptable seasonally, so it's perfect for any time of the year!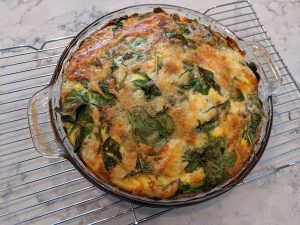 I baked a delicious quiche with Fair Shares eggs, spinach, spring onions, and Ropp Green Onion Cheddar cheese (yummy!!). My daughter and I will enjoy this for lunch this week, and I'll have a salad on the side with FS salad greens, pea shoots, radishes, etc.
This is a wonderful crustless quiche recipe– in the summer I like to swap in zucchini/yellow squash/Zephyr squash and in the fall it's great with broccoli. The recipe says to bake it for an hour, but I've found that ~ 45 minutes is sufficient.