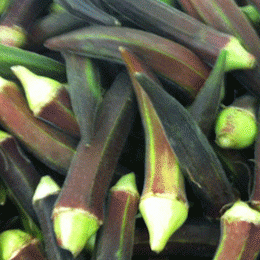 This is basic, be creative, add a layer of thinly sliced potatoes to the bottom and top to make a scalloped potato, okra and corn dish. Stir in some shrimp, add some peppers. Make it your own and remember to play in the kitchen and eat local, eat seasonal and eat fresh! Sustainable Agriculture Rules!
Preparation
I took the amount of okra in our share last week, cut the tops and bottoms off and washed it well. You will not wash away the "okra slime" so don't try. I'll deal with that a bit later. After it is washed, cut it into ¼ to ½ inch circles. Set that aside for a bit.
 
Now, take a few ears (based on size) of sweet corn and cut the kernels from the cobs. No need to blanch this, it will cook in the casserole to perfection. 
 
Back to the okra, sauté the okra in a couple tablespoons of butter for about 10 min over a med high heat. The "okra slime" will be gone after about 5 minutes.  (told ya). 
 
In a small baking dish, casserole pan, etc., put some okra on the bottom, add some corn and repeat. Or just throw all the okra and corn in together.  Same taste!
 
Make a basic white sauce – 2 tablespoons butter melted and 1 tablespoon flour browned in the butter, whisk in 1 cup milk.  Add 8 oz. or so of cheddar that is shredded for easy melting, I use a nice white cheddar.  Season with salt and pepper, add some hot sauce to taste.  Remember, you are pouring this over vegetables, don't be afraid to spice it up. 
 
Back to the pan you sautéed the okra in, throw a couple of tablespoons of butter and melt. Add bread crumbs and combine. (I always take my leftover Companion bread and dry it out for bread crumbs).
 
Pour the white cheese sauce over the okra and corn, top with the bread crumbs and bake at 350 for about 45 minutes. I always put a baking sheet lined with foil on the rack below to catch any drips.
 
Let this stand for a bit after it is out of the oven. That cheese sauce really retains the heat.
 
I serve mine with a little hot sauce on the side and some chopped onion or shallots.