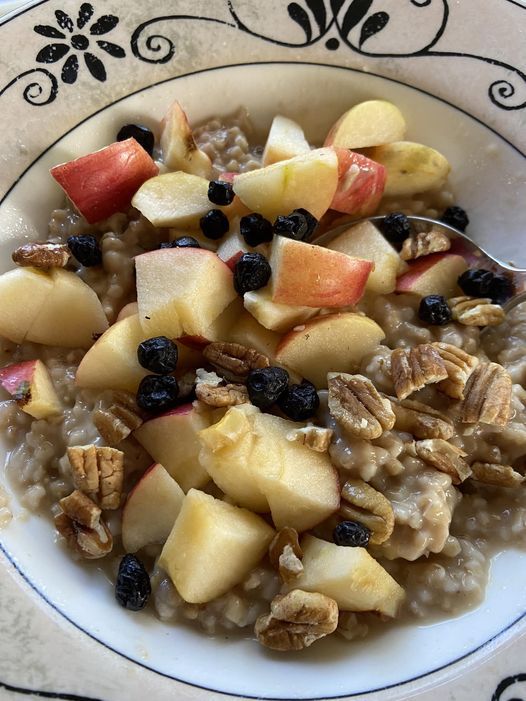 Breakfast of champions! Who doesn't love a great bowl of oatmeal when you can add so much good stuff to it? I always make enough oatmeal for several days and just refrigerate it. When it's time to eat I just scoop out what I want and add a bit of water to it, then heat for 30 seconds in the microwave. This is perfect to take to work as well for a nutritious, easy breakfast. The toppings are what makes it special. I cut up the apples we got this week and added pecans for crunch and some dried blueberries. I don't like super sweet things in the morning so I cooked my oats with a bit of salt and some peanut butter.
Fair Shares ingredients
I cup oats
2 tbsp peanut butter
Apple, chopped
Pecans
Other Ingredients
Salt
Dried blueberries
Method
Add 1 cup oats and 4 cups water to a large saucepan. Stir in peanut butter and 1 tsp salt. Bring to a boil and then turn to simmer. Cook on simmer for 30 minutes.
To serve, scoop 1/2 cup oatmeal to a bowl and top with chopped apples, pecans, and dried blueberries. When reheating, add a bit of water to the oatmeal and heat in the microwave for about 30 seconds. Stir and add toppings.
If you want sweet oatmeal, omit the salt and peanut butter. Add maple syrup and cinnamon. You can really customize this to your taste and mood. I usually get 5 servings out of this batch.