Mashed Mashed Potato Squash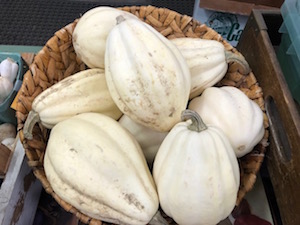 This white skinned squash, shaped like an elongated acorn squash produces a creamy flesh that fluffs up just like its namesake. It can be a great substitute for those avoiding starchy potatoes, or blend with the real deal for a lighter, super satisfying lower calorie alternative.
Here is a good website with a recipe suggested by member Joanne McAndrews, who says she prepared it adding Yukon gold potatoes it's definitely newsletter worthy. There are also great photos on the site. Below is a recipe I've made up based on a tried and true method I've used on potatoes, and sunchokes, as well as mashed potato squash.
2 mashed potato squash, halved and seeded
1-2 large garlic cloves, peeled
1/4 c. or more butter, to taste
1/4 c. milk or yogurt, to taste
salt and white pepper, to taste
dried chili flakes, to taste (optional)
Preheat the oven to 350F.
Rub the cut sides of the squash with olive oil and salt and pepper. Place cut side down on a baking sheet and bake about an hour, or until skin is beginning to brown and the flesh is quite soft.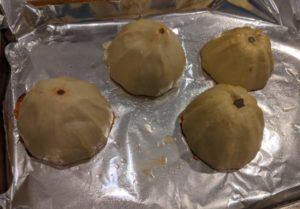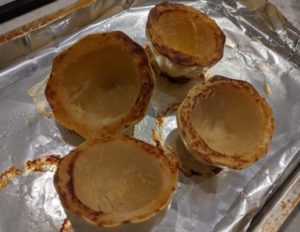 When cool enough to handle scoop out the flesh and squeeze in the garlic with a garlic press. Doing this while the squash is still plenty hot will cook the garlic juuust enough to cut the harshness, if that's a problem for you. Add the butter and milk or yogurt, and use a fork to fluff and mix. Season with salt and pepper and chili flakes. Serve hot.
Note: You can make this ahead and place in a table-ready baking dish and reheat in the oven for about 30 minutes at 275F.