Check again–that doesn't say Tomato Pot Pie, it's Tomato Pie Pot! I was craving tomato pie, but we had a LOT of tomato seconds, and a lot of staff and volunteers here at the Mothership to feed, so we decided to just put a thin layer of dry pasta in a deep soup pot and build the dish with layers and layers of thick, juicy tomatoes,  sauteed eggplant and red peppers, and shredded cheese combined with mayonnaise. It took well over an hour to bake, but wow… 
This dish is definitely going into the repertoire.
Since I am completely making up these quantities (you'll have to adjust to suit your pot size and ingredients), I've included photos of the making for a visual fairy tale (we all lived happily ever after).
INGREDIENTS
6-8 large tomatoes, sliced 1-inch thick
1 eggplant, sliced, seasoned with salt and pepper and sauteed in olive oil until browned and falling apart
2 sweet peppers, coarsely chopped and sauteed
1 small to medium onion, thinly sliced
1 package cheddar cheese, grated
~1c. Mayonnaise, or enough to mix well with cheese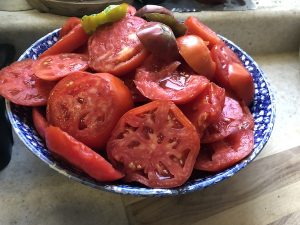 This was definitely more than 8 tomatoes.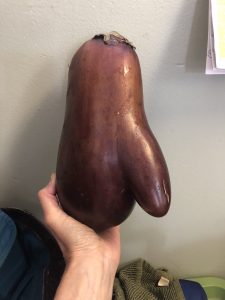 The big nose on this eggplant made it smell delicious when cooking.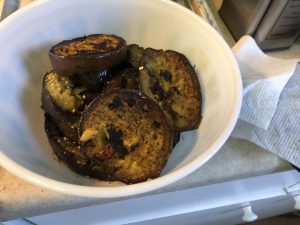 We added salt, pepper and garlic and sauteed until very soft.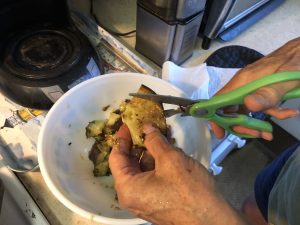 Then we cut it up so we could add it in two different layers.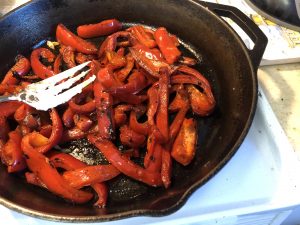 We did the same to the sauteed peppers.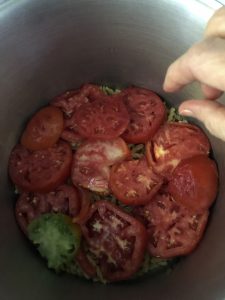 Let the layering begin! We out oil in the bottom of the pan and pasta on top of that before the tomatoes.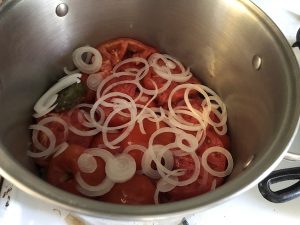 Two layers of tomatoes, then onions.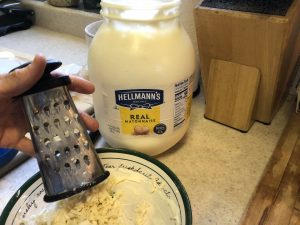 Yes, that is a gallon container of mayo. No, we didn't use it all!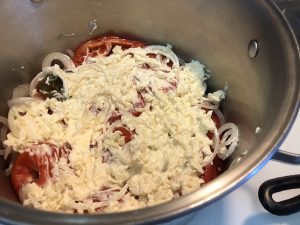 I truly believe the mayo-cheese mixture is the magic fairy dust that makes this so delicious. Go ahead and squeeze a couple of cloves of garlic in there with the mixture.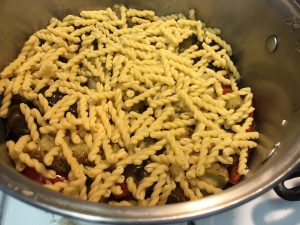 Round two of the layers.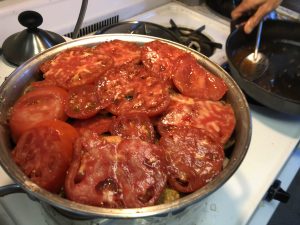 Fill it to the brim.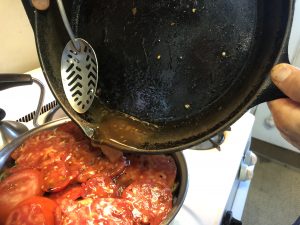 You'll want plenty of juice, and possibly a bit extra if you are using dry pasta–it took a bit longer to cook and I probably would go with fresh pasta the next time.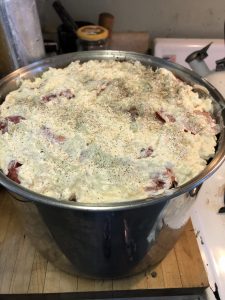 Top with the cheesy mayo layer. We made this pot of delight up the night before and popped it in the oven for a couple of hours before lunch. Cook until top is browned, then cover with foil for remaining bake time so it doesn't get completely dark like mine did. After about an hour, reach a fork down the side and snag a noodle to test for doneness. It the pasta is still a bit hard and the whole pot seems dry, add a bit of water (hot would be best) and continue to cook another 15-20 minutes. 
So what did it look like out of the oven and scooped into a bowl? Sorry, you'll have to make it and see for yourself–it's amazing I remembered to take so many photos before…