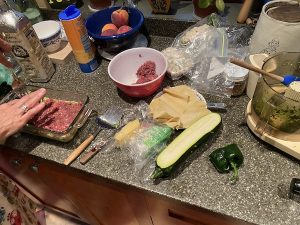 I made the weirdest lasagne the other day. It was good, but unlike any lasagna I've ever eaten. Of course, there was no recipe, only ingredients begging to be part of this wacky dish. 
I had half a pack of lasagne noodles left from another weird lasagna foray (I'll spare you that one). I found ground beef in the freezer, along with a pound of ground venison from a deer friend… I had some basil that I made into a pesto. I brought home a zucchini and a poblano pepper, so those got sliced thin and added to the layers, along with some cheese, salt and pepper. What else? Just add heat.
Ingredients
1/2 package fresh lasagne sheets
1 to 2 pounds ground meat (mix and match)
1/2  large zucchini or other summer squash
1 large poblano or other pepper
any other produce you want to use here
pesto
grating cheese
fresh mozzarella
olive oil
salt and pepper
For Pesto
1 large bunch basil
3 or 4 garlic scapes or a clove or two of garlic
1/4c. toasted pine nuts
1/4c. to 1/2c. grated cheese
olive oil
salt and pepper
squeeze of lemon juice (optional)
Pulse in a food processor, starting with dry ingredients and adding oil a little at a time to reach desired consistency. You may want to add a little extra oil so it's spreadable.
Mix your ground meats together and add salt and pepper and any other flavorings you might enjoy, like a spoonful of oo'ma'me, or some crushed red pepper, perhaps.
Prepare a pan (I used a glass bread pan which was the perfect size) by greasing the bottom and sides with a generous glob of olive oil. Place your first layer of noodle in the bottom and spread a thin layer of pesto over the top. Next spread a thin layer of meat mixture over the top, spreading and using your fingers as needed. If you use less meat, you'll probably just spread dollops around on each layer.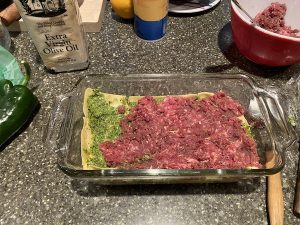 Follow with long, thin strips of zucchini, using a cheese planer or vegetable peeler to make them. I used the cheese planer to slice the poblano, also (I said weird, didn't I?).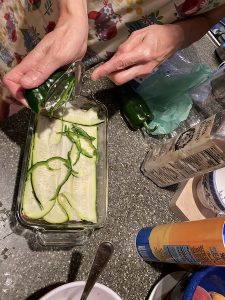 Repeat layers until your pan is full or you've used up all your ingredients.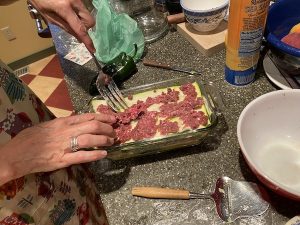 You can include grated cheese  and extra mozzarella between layers, too, if you like, but make sure to top it with the cheese(s). Bake for about an hour at 375F, or until top is browned and bubbly.
Unlike me, remember to take photos if you want to put it in your newsletter. 🤡