Kale Salad with Wheat Berries in a Yogurt Caeser Dressing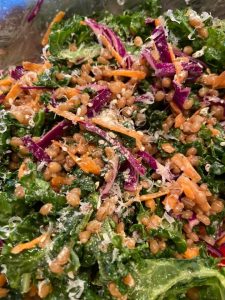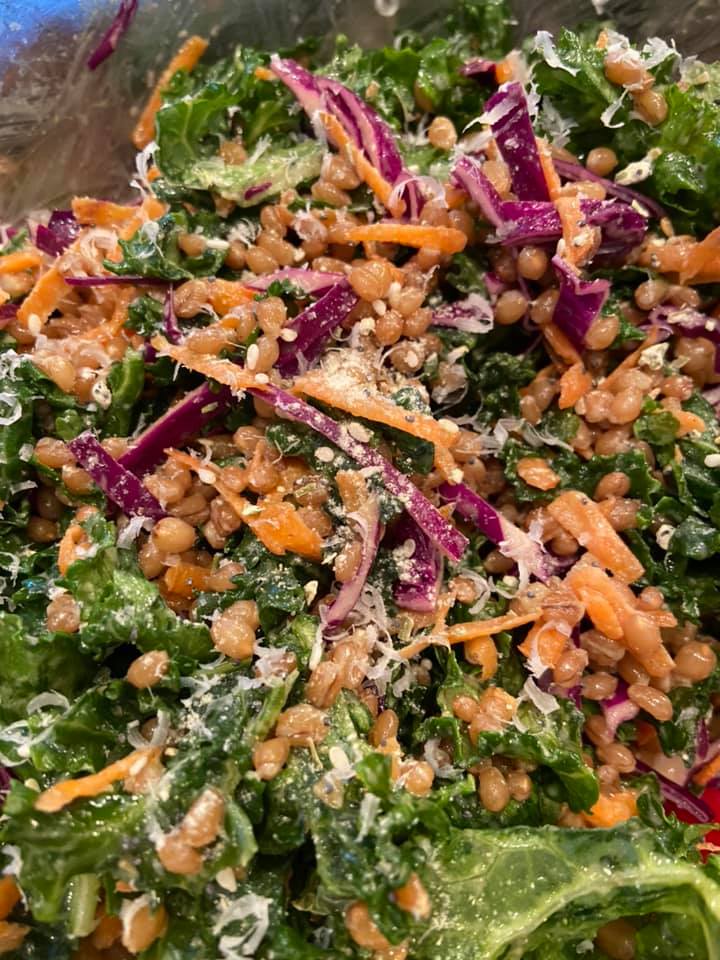 (oops, that SAResa link was supposed to take you
HERE!
)
I cooked the wheat berries 2 different ways for this salad. Each time I used 1 cup of wheat berries from Fair Shares and 3 cups water. One batch I cooked in my Instant Pot on manual mode for 35 minutes. Quick release and drain. The other one I toasted the wheat berries on a rimmed cookie sheet in a 375 degree oven for 10 minutes and then cooked in a pot on the stove in 3 cups water. The stovetop method took 40 minutes to reach my degree of chewiness. I brought the water and wheat berries to a boil and then simmered covered, checking tor doneness after 30 minutes. The toasting was optional, but gave an extra nutty taste. Both batches were seasoned with a glug of Kreta olive oil, also from Fair Shares, and about a 1/2 tsp salt while the batches were still warm. The berries soak up that flavor!
On to the salad!
I had kale left over from a few weeks back. I always wash and chop my greens before I store them in the fridge. It's a bit of work on pickup day, but it's all ready to use. Tossing the kale in the berries while they are still warm helped the kale to soften. Adding the dressing soon after ensures the berries get some extra flavor. This is even better the next day so it's perfect for meal batching!
Cook 1 cup wheat berries in 3 cups water or broth using a method above. Drain and season with olive oil and salt.
Mix warm wheat berries with chopped kale. I had about 5 cups.
In a blender add
1/2 cup Windcrest Dairy Yogurt (Fair Shares!)
1/4 cup grated Parmesan
2 Tbsp lemon juice
1 Tbsp white wine vinegar
1 Tbsp Worchestershire sauce
1 Tbsp Dijon mustard
3 anchovies ( I used a good squirt of the paste)
2 garlic cloves
Combine and slowly add
1/4 cup Kreta Olive oil
Salt and pepper to taste
I added shredded carrot and purple cabbage for color.
Top with croutons and some freshly grated Parmesan just before serving
Note: I used about half of the dressing. I'll save the other half for a chicken Caesar salad