Butternut Squash Gnocchi with Sage Butter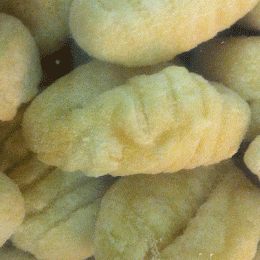 This is a good cold-weather activity you can get the kids in on (maybe).
Preparation
from The Best Quick Breads by Beth Hensperger
Serve as a side with roasted meats and chicken or as a light meal with a salad.
Ingredients:
1 medium butternut squash
1 pound ricotta cheese
1/2 cup grated Parmesan or Methuselah cheese
1/2 teaspoon salt
1/4 teaspoon nutmeg and black pepper
1 egg, lightly beaten
1 2/3 cups flour, or a few tablespoons more if needed
4 tablespoons (1/2 stick) butter, melted
1 tablespoon fresh sage, chopped
Cut squash in half lengthwise and place in a baking dish cut side down. Add 1 inch of water and bake in 350 degree oven for an hour, or microwave without the water, covered for 6 minutes and uncovered for 6 more. It is ready when a fork can be inserted and removed easily. Cool, then scrape out the seeds and scoop out the flesh. Mash the pulp well. If flesh is very watery, drain through a mesh strainer.
In a large bowl, mix the cheeses, salt, nutmeg, pepper, and egg. Add 1-1/4 cups squash (save the remainder for another use), then flour, about 1/4 cup at a time, until it all comes together and forms a soft, pliable dough. You may need to add more flour, 1 tablespoon at a time. Knead the dough lightly to form a smooth ball. Dough should be soft, but firm enough to shape.
Turn dough out onto a lightly floured surface and divide into 4 equal portions. With the palms of your hands, roll each portion into a small cylinder about 3/4 inch in diameter. With a sharp knife, cut each cylinder into 1-1/2 in. pieces, pinch the ends to make a tear drop shape. Cover the shaped gnocchi as you shape the rest of the dough.
Bring 3 quarts of water to a boil with 1 tablespoon salt if desired. Preheat oven to 350 degrees and butter a baking dish.
Gently drop about one quarter of the gnocchi into the water and cook until they rise to the surface, about 5 minutes. Remove with a slotted spoon, drain, and transfer to prepared dish. Continue with remaining three batches of gnocchi.
Drizzle the gnocchi with the melted butter, toss with the sage and a few grindings of black pepper. Bake 10 minutes.