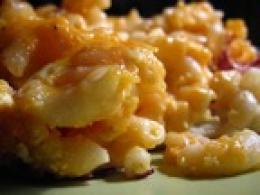 Charter member extraordinaire Joanne McAndrews has shared another winning recipe she found with us. Perfect for all those winter squash in your fridge that are threatening to exile to the compost heap… 
Joanne writes:
"Last night our family made this butternut squash mac and cheese for dinner. Yummy!  It's definitely newsletter-worthy. Everyone slurped it up, including our teenage daughters, and they commented that it would appeal to kids of all ages. Butternut squash is great because like a pair of khaki pants, it's neutral and takes on whatever flavors you pair it with. :)"
The original recipe is here, but I made my Fair Shares substitution suggestions next to the ingredients, (noted with an *asterisk in parentheses). Also, for the record, I am not a believer in fat free options).
http://www.myrecipes.com/recipe/creamy-light-macaroni-cheese
3 cups cubed peeled butternut squash (about 1 [1-pound] squash)
1 1/4 cups fat-free, lower-sodium chicken broth
1 1/2 cups fat-free milk (*whole milk or 2%
2 tablespoons plain fat-free Greek yogurt (*Windcrest Low Fat Greek or YoBul full fat Bulgarian yogurt)
1/2 teaspoon freshly ground black pepper
1 1/4 cups (5 ounces) shredded Gruyère cheese (*Marcoot Cave Aged Heritage)
1 cup (4 ounces) grated pecorino Romano cheese
1/4 cup (1 ounce) finely grated fresh Parmigiano-Reggiano cheese, divided (*Marcoot Cave-aged Tomme, though really, there is no substitute for true Parmigiano Reggiano)
1 pound uncooked cavatappi (*any Midwest short pasta
1/2 cup panko (Japanese breadcrumbs)
2 tablespoons chopped fresh parsley
Preparation
1. Preheat oven to 375°.
2. Combine squash, broth, milk, and garlic in a medium saucepan; bring to a boil over medium-high heat. Reduce heat to medium, and simmer until squash is tender when pierced with a fork, about 25 minutes. Remove from heat.
3. Place the hot squash mixture in a blender. Add salt, pepper, and Greek yogurt. Remove the center piece of blender lid (to allow steam to escape); secure blender lid on blender. Place a clean towel over opening in blender lid (to avoid splatters). Blend until smooth. Place blended squash mixture in a bowl; stir in Gruyère, pecorino Romano, and 2 tablespoons Parmigiano-Reggiano. Stir until combined.
4. Cook pasta according to package directions, omitting salt and fat; drain well. Add pasta to squash mixture, and stir until combined. Spread mixture evenly into a 13 x 9-inch glass or ceramic baking dish coated with cooking spray.
5. Heat oil in a medium skillet over medium heat. Add panko, and cook for 2 minutes or until golden brown. Remove from heat; stir in remaining 2 tablespoons Parmigiano-Reggiano cheese. Sprinkle evenly over the hot pasta mixture. Lightly coat topping with cooking spray.
6. Bake at 375° for 25 minutes or until bubbly. Sprinkle with parsley, and serve immediately.