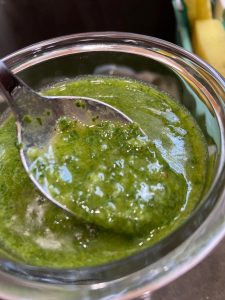 I'm putting this stuff on EVERYTHING
INGREDIENTS
Fair Shares
Basil (about 2 cups leaves)
4 garlic cloves
2/3 cup olive oil
Other Ingredients
3 tbsp red wine vinegar
1 tsp sugar
1 tsp Dijon mustard
Salt and pepper to taste.
METHOD
Add all ingredients to a food processor and pulse to combine. Taste and adjust for balance.
I was roasting chicken breasts from my share as I made this. I cut one up and tossed it in a simple salad and drizzled this over it. Best lunch ever! This would be great on fish too. And just imagine it over sliced tomatoes….