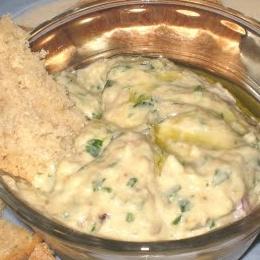 This recipe is for a single medium-sized globe eggplant, but if you're going through the trouble, you might want to double or triple it.
Preparation
After roasting your eggplant until it's nice and soft and squishy, about 20-30 minutes, allow it to cool enough to handle, slice it in half lengthwise and scoop out the pulp into a food processor with the following ingredients:
1.5 T. tahini
1 clove garlic, peeled and smashed with the side of a chef knife
1 T. lemon juice
1 T. Kreta Reserve olive oil
coarse ground salt to taste
one or two turns of freshly ground pepper
pinch of ground cumin or chili powder or cayenne (optional)
 
Pulse until smooth and season to taste with more salt and pepper, lemon juice and olive oil. Serve with vegetables or bread, or use as a sandwich spread. It would be delicious with some Salume Beddu Salsiccia!